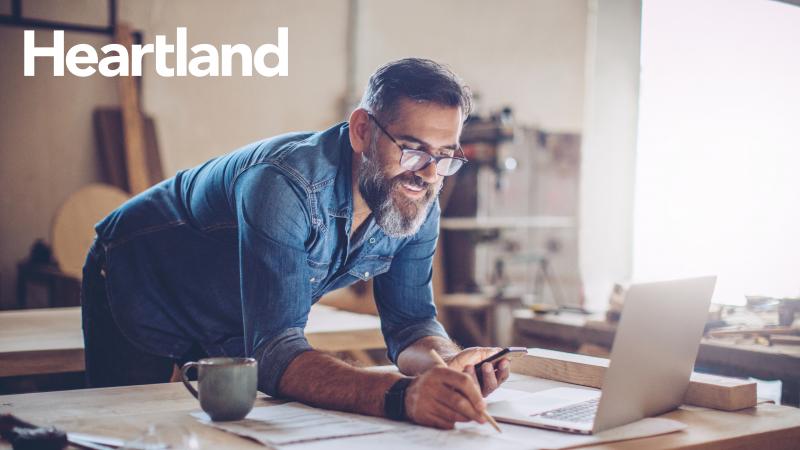 Other Business Services
Merchant Services
The ability to accept a variety of payment options isn't just a customer convenience, it's essential.
First Seacoast Bank has partnered with Heartland, a leading provider of secure transaction and payment solutions, to allow your business to accept all forms of payment. Pricing is transparent, customer service is available 24/7, and Heartland provides a comprehensive breach warranty for peace of mind.

Secure Card Processing
Backed by a comprehensive breach warranty, Heartland Secure uses EMV, end-to-end encryption and tokenization to protect customer credit card data.

Flexible Processing Options
Take payments in-store, online and offsite on any device, including point-of-sale terminals, tablets, mobile phones and virtual terminals.
With FSB and Heartland, you can accept an array of payment methods, including:
Apple Pay

Samsung Pay

Android Pay

PayPal

Gift Card

Credit and Debit 
Interchange-Plus Pricing
Always know the disbursement of your processing fees between Heartland and card brands, which means no arbitrary price increases and full realization of cost reductions

Next-Day Funding
Merchants are eligible to receive their money from all card transactions the next business day, regardless of bank relationship. In addition, your business will receive robust reporting and analytics, consolidated statements, and free account reviews.



Payroll Services
Unless you run a payroll company, time spent on your payroll is taking time away from focusing on your core business. There is a solution—entrust this complex, time consuming, but crucial process to First Seacoast Bank and our expert partners at Heartland, so you can get back to business.
Features
Customizable, all-inclusive payroll solution
A dedicated single point of contact supported by a team of specialists who understand your business
Integrates with multiple time clock and POS systems
Federal, state and local tax filing and payments included in standard solution
Integration of workers' comp insurance data and premium collections through multiple carriers
Secure 24/7 online access
Simple pricing with a three-year price lock
Added Value
Robust reporting – complete documentation of your payroll
Tax Credits - the FICA Tip Credit can amount to hundreds of dollars per employee each year. We help make documenting the amounts easy with our FICA Tip Credit Report.
Provider Reporting - our superior technology allows secure access for banking services, benefit programs, government agencies or insurance providers as needed.
Commitment to Customers - we will strive for perfection in everything we do and treat every payroll and paycheck as if it were our own.
Basic Payroll
Web-based application
Complete payroll tax services
Direct deposit
Prepaid payroll Visa cards
Payroll calculator
CPA report packet
Communicate payroll via web, phone or fax
Integration with time and attendance systems
Labor distribution functionality
Certified payroll
Workers' compensation and pay as you go
Customizable payroll grid and payment fields
Employee access to check history and W4 information
Paid time off tracking/reporting
New hire reporting
Onsite check printing options
Flexible delivery options
Preview payroll prior to processing
Multi-location sorting and delivery options
ACA compliance tracking
CA sick leave tracking
My 401(k)
Automatic investment of all employee 401(k) deductions each payroll
Census reporting to TPA
Timely upload to fund investments according to compliance requirements
Provides CPAs and TPAs access to data needed for plan testing
My GL Connection
Custom general ledger interface for accounting software packages
Personalized service to map GL to accounting
Avoids errors and saves time
vFile produced for import each payroll